Boxtops for Education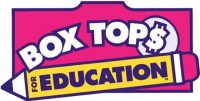 Again this year, LCA will be collecting Box Top coupons to raise money for our school. We earn 10 cents for every Box Top submitted, which added up to $927.60  during the 2014-15 school year! The money earned allowed us to give back to our students, teachers, and their classrooms. Monies will go to support various Legacy Parent Association programs.
 Please join us in our efforts!
BUY 

products that have the Box Top Label …

CLIP

 the Box Tops …

SEND 

them to school with your student. There is a collection box in the School Office.
We collect Box Tops throughout the year, so please continue to save them!
Be sure to track our progress HERE.  
** Please check the expiration dates as Box Tops will NOT take any that are expired. The Box Tops are bundled into groups of 50 and even if one (1) is expired we DO NOT get credit for that grouping! Thank you for your help and "HAPPY CLIPPING"!