Mother's Knight - Hosted by Megan Nelson
Event Details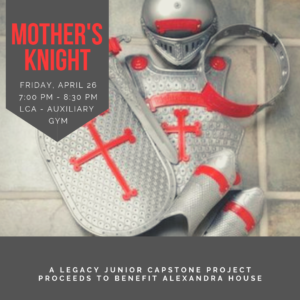 Date: Friday, April 26, 2019
Time: 7:00 pm – 8:30 pm
Location: Legacy Christian Academy, Auxiliary Gym
Who: Mom's and their PreK-6th grade son's
Donation: A minimum donation of $20/mother-son couple or $25/family is requested for this event.
Join us for an exciting evening of dessert, crafts, pictures, dancing and games. Mother's will be escorted to their table by their Knight where they will enjoy a delicious dessert before visiting with the royal photographer. Knight's will then have the opportunity to build their own armor while hearing a powerful life lesson focused on what it means to be a sacrificial knight! The remainder of the evening will consist of dancing and festival games.
The money raised through this event will be donated to Alexandra House. Alexandra House supports women and children who are affected by domestic abuse or sexual violence. They help advocate for women in difficult situations.
Questions about this royal evening can be directed to Miss Megan Nelson, 20mnelson@lcamn.org.