The Man Who Came to Dinner - Fall 2017
The story of The Man Who Came to Dinner is set in a small town in Ohio in December of 1940. A famous, outlandish radio wit, lecturer,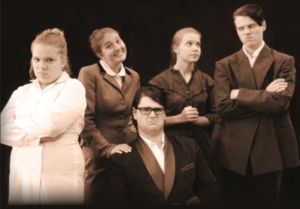 theater, and literary critic named Sheridan Whiteside (based on the real-life personality Alexander Wollcott who was one of the most famous people of the 1920's-1940's) has been invited to dine at the home of the wealthy owner of a factory, Mr. Ernest Stanley and his family. However, before Whiteside enters the house, he slips on a patch of ice outside the front door and injures his hip. Whiteside intimidates the Stanleys with threats of legal prosecution, and they are forced to allow him to stay while he recovers. Whiteside proceeds to terrorize the Stanleys, taking over their home and interfering with almost every aspect of their lives. But Whiteside's life is about to change for the worse when his secretary of 10 years, Maggie, falls in love with the local newspaper editor and threatens to resign. Distraught, Whiteside plots to break up the happy couple. Maggie figures out his evil scheme and comes up with a plot of her own. Meanwhile, the Stanley's normally beautiful home is full of chaos, which includes:  an octopus, 4 penguins, a roach city, and an endless stream of visitors that are very entertaining! The ending does not disappoint with a twist that will leave you surprised and laughing!