My Fair Lady - Spring 2018
Show Dates/Times:
Friday, April 13 & 20 at 7:00 pm
Saturday, April 14 & 21 at 2:00 & 7:00 pm
My Fair Lady is a classic and beautiful musical about transformation for the whole family.  Acclaimed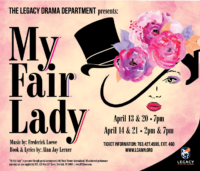 professor and confirmed bachelor Henry Higgins makes a wager with his linguistic colleague Colonel Pickering that in six months he can pass off a common flower girl, Eliza Doolittle, as a duchess at an embassy ball. After working day and night to speak "properly," Eliza transforms into a proper lady. Along the way, she enthralls those around her including Freddy, a high-society gentleman who falls in love with her, and a linguistics expert who is convinced that she is royalty. When the six months are over, she is too refined to go back to her old way of life, but doesn't desire the life of leisure either. A strong bond has developed between her and Henry Higgins, but it's one that neither of them wants to admit.
Because it is known for being both clever and romantic, it is one of the most beloved musicals of all time.
Tickets on sale beginning March 1
You may purchase tickets ONLINE 24/7 after the sale open date or through the LCA Box Office Monday-Friday 7:00 am-3:30 pm. The Box Office accepts cash or check only.
Ticket Prices:
Preferred Seating $15
General Seating $10
Student/Senior/Staff Pricing $7
No refunds or exchanges