Hello Dolly! - Spring 2019
Show Dates/Times:
Friday, April 5 & 12 at 7:00 pm
Saturday, April 6 & 13 at 2:00 & 7:00 pm
Hello, Dolly!, the blockbuster Broadway hit, bursts with humor,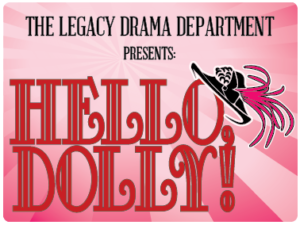 romance, high-energy dancing, & some of the greatest songs in musical theatre history. The romantic & comic exploits of Dolly Gallagher-Levi, turn of the century matchmaker, are certain to thrill & entertain audiences again & again.
Bring your family & friends to this wonderful musical for all ages!
You may purchase tickets ONLINE 24/7 after the sale open date or through the LCA Box Office Monday-Friday 7:00 am-3:30 pm. The Box Office (located at the main school office) accepts cash or check only.
Ticket Prices:
Preferred Seating $15
General Seating $12
Student/Senior Seating $7
No refunds or exchanges