Overview
Speech is Minnesota's competitive forensics system, governed by the Minnesota State High School League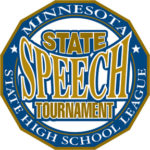 (MSHSL).
Teams compete in any or all of 13 speaking categories. Six of these are "Public Address" categories:  Discussion, Informative, Original Oratory (persuasive speaking), Extemporaneous Speaking, Extemporaneous Reading, and Great Speeches (analyzing a notable historical speech). Seven are "Interpretive" categories: Creative Expression, Drama, Duo Interpretation, Humor, Poetry, Prose, and Storytelling.
Speeches in some categories are unscripted, some require a speaker to research and write his/her own script, and others are selected and cut from published material. Coaches and team members work together to select categories to suit the skills and desires of each speaker and to create a balanced, competitive team. Individual speakers typically compete in one category all season, though experienced, ambitious speakers may prepare and compete in two or more categories.The range of speaking purposes and styles among the categories means there is a good match for any speaker.
Open and invitational tournaments are hosted by high schools from January through March. Subsection, section, and state tournaments are organized by the MSHSL and take place from late March through mid-April.
Why Speech?
The mission of Legacy Speech is to provide team members with lifetime speaking skills, a positive and memorable team experience, and competitive success.
There is a place on this team for any 7th-12th grade LCA student. It doesn't matter who you are, what your specific talents are, or what kinds of things you like: We have a place for you.
With 13 categories (or kinds of speech) to choose from, we will find a speaking purpose and style that suits you. With unlimited topics/scripts to choose from, we will find material you will enjoy and be good at. With a couple of dozen teammates, you will get encouragement and coaching to become your best.
The Speech Season
November: Team sign-up and category selections.
January: Weekly team and individual practices begin.
February and March: Tournaments on Saturdays.
April: Subsection, section, and state tournaments.
Contact Mr. Atkinson to learn more.