The LCA Athletic Department is pleased to announce the hiring of Adam Hill to Head Varsity Baseball Coach. Coach Hill is no stranger to Legacy Athletics as he's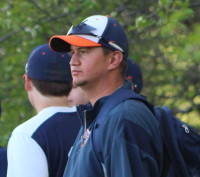 been coaching both baseball and basketball since 2013 and coaches strength training throughout the year. Coach Hill also stays involved in Legacy Athletics in the fall by site managing various sporting events. In addition to mentoring LCA athletes, Coach Hill has invested in young athletes as both a coach and an umpire in the Richfield and Andover areas.
The hiring committee was impressed with Coach Hill's passion for both the game of baseball and the LCA athletes he has been investing in since 2013. His desire to smoothly transition the team from 2015 to 2016 was strongly evident. Coach Hill states that he is "beyond excited to get the chance to build on the culture and hard work the baseball program began to build under Coach Oakes in 2015, both on the field and spiritually."
We look forward to having Coach Hill bring his knowledge and work ethic to the field this spring as well as his desire to follow James 1:12, "Blessed is the man who remains steadfast under trial, for when he has stood the test he will receive the crown of life, which God has promised to those who love him."  Please join us in congratulating Coach Hill on stepping into the Varsity realm of Legacy Athletics.