On October 26th, the 2015-16 Girls Basketball team was celebrated for capturing the first ever LCA Cup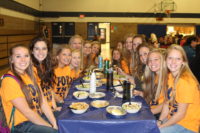 Championship. Throughout the 2015-16 school year the girls accumulated a total of 84 points for participating in all-school events (Mane Event & Golf Scramble), attending other extra-curricular events as a team, and maintaining academic excellence. They also received points for their season finish during basketball and athletic honors received by team members. In recognition of their commitment to being student leaders and inspiring community spirit they have each received a "For the Cup" t-shirt, a complimentary Chipotle lunch and will have their team listed on the Legacy Cup banner to be unveiled during Homecoming.  All graduated members will receive a care package including their shirt, a Chipotle gift card & an invitation to the Homecoming unveiling.
To "up the game" for the 2016-17 school year, the Athletic Department has issued a challenge to teams to exceed 100points and earn points in all 6 categories (Event attendance, Community Service, Strength Training, Season Finish, Athletic Honors & GPA). Next years Cup is anyone's to win so start using that #LCACup2017 on social media to get credit for all you do!
#LCARoars