The LCA Athletic Department is pleased to announce the hiring of Mr. Tyler Adams to Head Boys Golf Coach. Coach Adams played DIII collegiate golf at North Central University where he received his BA in Youth Ministries and is currently working on his Masters in Spiritual Leadership. Upon completion of his undergrad, Coach Adams spent two years coaching both the Mens and Womens Golf teams at North Central. He has been an avid golfer all his life and enjoys giving private lessons whenever his schedule allows.
The hiring committee was impressed with Coach Adams communication skills and his view of coaching as "doing life together." His ability to connect with athletes easily will be a key aspect in his goal to engage in the program and continue the rich history of Boys Golf at LCA.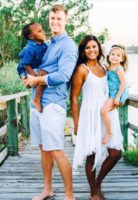 Coach Adams is the Executive Pastor at Northstar Community Church in Andover and his wife Sarah is the Admissions Director at Concordia Academy. They have two young children, Ava who is 2 and Kingston, recently adopted from Uganda, who is 4. They hope to enroll both at Legacy for the 2017-18 school year.  A Meet & Greet will be scheduled soon and posted in eNews when confirmed.