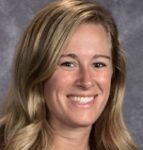 The LCA Athletic Department, in conjunction with PACT Charter School, is pleased to announce the appointment of Emma Kelby to Head Cross Country Coach for the 2017-18 school year. The creation of the PACT-Legacy Cross Country team is a new venture for fall 2017 and Coach Kelby is looking forward to building this program from the ground up.
Coach Kelby grew up in northwest Wisconsin, and ran competitively for eight years. In high school she qualified for the state meet three years in a row as an individual. Her passion for cross country followed her to college at the University of Northwestern-St. Paul, where she ran for the Eagles her freshman year. Upon graduating, her love for running became more recreational, but no less competitive. She has since completed two marathons and has plans to continue with marathon running. Coach Kelby says that, "Running has taught me a healthy lifestyle, the capabilities of the body, and how mental toughness matters just as much as your physical strength." She is excited and honored to take on the role of Head Coach to support the young runners in this great sport. We are confident that her experiences in the sport will assist her well as we launch the PACT-LCA Cross Country team this fall.
Coach Kelby is an elementary teacher at Legacy Christian Academy and will have a name change in July after her marriage to fiancé Porter Morrell. Coach Kelby is excited to start running with student-athletes in July and will be sending out summer workout and running dates to all interested parties. Please join us in congratulating Coach Kelby on this new adventure in running!