Legacy Athletics is committed to developing programs of excellence. Up until this year, our weight room facility has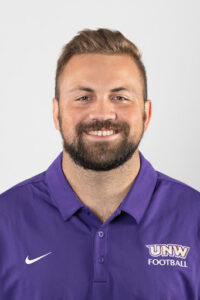 limited the opportunities student-athletes have to better themselves and their physical fitness. With the new building came a new weight room and new equipment that provides a state-of-the-art experience for our student-athletes. In addition, the Athletic Department created a new role of Head Strength & Conditioning Coach to work with our student-athletes throughout the school year. This individual will work with athletes who are both in and out of season to help them become stronger, faster, more powerful and more confident in their abilities. We are thrilled to announce that George Obitz has accepted this new role and will be serving our athletes beginning November 16th.
"Coach Obitz is going to take our athletic programs to the next level of excellence," says Athletic Director, Nathan Bellefeuille. "His experience leading his teammates and classmates at the University of Northwestern speaks for itself. Our athletes are going to have opportunities unlike any of the schools in our area and the benefits are going to be exponential for those who take advantage of it. You are going to see faster, stronger and more confident athletes who are engaging in a community of development and commitment. The relationships George will create in his space are going to further the mission of Legacy and help our athletes rise up and be bold in pursuing their relationship with Christ." Head Baseball Coach, Adam Hill, adds, "I am very excited that we have hired a Strength and Conditioning Coach. After meeting with Coach Obitz and hearing his vision and plan for each program at Legacy, I am confident our athletes are in great hands. I fully believe that the confidence and strength built with George will inevitably transfer from the weight room to the field, court, etc."
Coach George Obitz says, "I am very excited to get the opportunity to work with athletes and coaches at LCA and thankful the staff put their faith and trust in me to serve the school's community. Strength and conditioning is an integral part of athletics. My goal is to serve the coaches so they can give their sport-specific duties their full attention and I can take the strength programming off of their hands. The athletes will learn how to train safely and effectively while under my instruction. They will learn to love the weight room and see its benefit in their respective sports. I remember the impact my coaches have had on me throughout my athletic journey and hope to have that same impact on the athletes here at Legacy by being a role model of a servant of Christ. Legacy gives me the opportunity to work in an environment where my faith and passion for training can be integrated together. I love that I can openly talk about who Christ is and who He has called us to be."
George Obitz has served as the Assistant Strength and Conditioning Coach at the University of Northwestern for the last three years. He was the lead programmer and trainer for the Mens and Womens Soccer teams as well as the Football team.
Coach Obitz will be working with athletes who are in and out of season Monday-Thursday from 3:30-6:30 pm in the weight room. Watch for announcements from your coaches regarding days and times of training.