Class of 2022 Decisions
It's that time of year when we get to share the plans Legacy seniors are making for their lives after graduation. Each week we hope to feature a senior in eNews and then archive their story here as we work our way towards commencement.
As we celebrate these decisions with each student, would you please join us in praying that they have open hearts and minds to the call of God on their lives?
---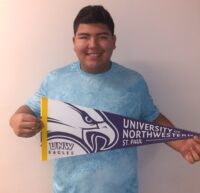 When it came to looking for colleges, Wyatt knew he preferred the MN climate and desired to stay close to his parents while at the same time gaining the freedom of living on campus.  He's been performing in his church's worship band since 7th grade so being at a college that has a strong music program was instrumental. Just in case he felt God calling him to pursue that path. Last summer he toured a couple of colleges and liked them both. His family has also used Legacy's Naviance program in their college search process. He started thinking about the University of Northwestern at the beginning of his senior year. He's had friends and family that have attended there and he likes the community. It also fits well with his desire to stay local and be at a college with a strong music program. While he's ultimately undecided on a career path, he wants to be able to use his strengths of decision-making, strategic thinking, and problem-solving in his career. He feels that Legacy has set him up well for college. He knows what he's capable of and he's ready to take the next step.
---
Tezra started the college planning process really late, but she knew that playing volleyball was a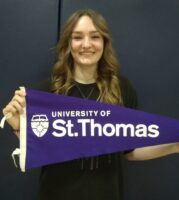 must for her. She was at one of her volleyball games earlier this year when she met a girl that she had played against in the past who now attends the University of St. Thomas. She encouraged Tezra to consider St. Thomas, but Tezra didn't think she was good enough to play at an NCAA DI school. On her way home from that game, she talked with her dad about it. Then at her last home game for this year, the St. Thomas coach came. He talked with Tezra's sister and told her that he wanted Tezra to play for St. Thomas, but only if that is what she really wanted. She took the next step and attended a St. Thomas practice. Tezra noticed how nice the coach was and how he made her feel that she had something special to offer the team. The girls on the team were also super friendly and welcoming. She decided to tour the campus and sit in on a class. She was very impressed with the professor and really enjoyed the campus. Considering all of those things and the scholarship money that has been offered to her, Tezra has found her fit. She will be attending the University of St. Thomas and playing Division I volleyball, a dream come true for her.
---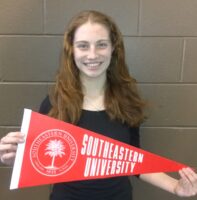 Lauren has always been interested in helping others and knew that she needed a job in which she would be active and work with people. She has some family members who are nurses so she talked with them and started considering a variety of careers in healthcare. She's always been drawn to her grandparents and even in her childhood, she seemed to have a deep connection with the elderly. When it came to thinking about college, Lauren wasn't sure if she wanted to stay in-state or go out of state, but she knew she wanted a Christian college. As she loves warm winters and the state of Florida, she started looking up Christian colleges in Florida and came across Southeastern University. She ended up touring the college and fell in love with it. She immediately noticed the community and loves that the college students are encouraged to get involved with the local community. She was also down there while the college held its annual conference and it was an incredible experience. Ultimately, after much prayer, she just got the feeling that she was supposed to go there. So next school year Lauren will be enjoying sunny Florida as a student at SEU while pursuing a career in nursing with the hopes of working in the geriatrics area.
---
Gabbie's college search really started with her grandma who went to the University of Northwestern and has been a long-time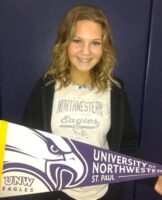 supporter of the college. Her grandma started mentioning it when Gabbie was in middle school, but Gabbie didn't start to consider it seriously until her junior year of high school. That's the time she started thinking about careers and researching the options that UNW had. When she visited in person, she thought the campus was really beautiful. But she wasn't ready to commit because she was also seriously considering another college in a warmer climate. She spent a lot of time weighing various factors such as the transferability of her PSEO credits, the quality of education, climate, culture, and financial aid. What ultimately pushed her in the direction of UNW was when Gabbie and her grandma prayer together asking the Lord to make the decision clear. After that prayer, she realized that UNW was going to be the right fit. She's so grateful to have involved prayer in the decision. Her current plans are to major in Psychology and minor in Criminal Justice. After that, she hopes to attend law school or pursue a master's in Psychology.
---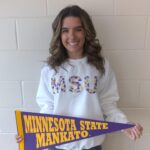 For quite a long time Sophie planned to attend a college in a nearby state. But once she decided on a major, she found out that that college didn't offer it. So she had to start considering other colleges. Since she's been at Legacy her whole life, she feels ready to try a public university. She liked the idea of being a little far away, but close enough to drive home when she wanted. She had 3 college tours lined up, but there was a snowstorm for one of them so she canceled it, then a sporting event for another one so she canceled that one too, and that left Minnesota State University – Mankato. Her grandparents live close to Mankato, her brother will be a senior at the University next year and they have her intended major of Sports Management so attending Mankato makes a lot of sense for her. She was originally thinking about being an Athletic Trainer, but after taking Anatomy and Physiology, she realized that she didn't want to be in the medical field in any way. She still wants to work with athletes and hopes to become an Athletic Director one day. Sophie's ready for the next step in life and looking forward to trying something new.
---
When Emily was a freshman, she was in the hospital for a while. The nurses were so nice to her that it inspired her to consider nursing as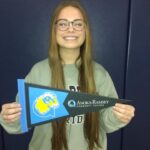 a career. However, between the pandemic of COVID during her Junior year and taking the Bethel University Healthcare class here at Legacy during her senior year she learned in the healthcare class and the issues with covid, she's realized that healthcare isn't for her. During all of this, she knew she wanted to go to a college in which she could live at home and come out being debt-free. She's also been working at a job she loves and knows that a degree will further her opportunities at her current employment. As Emily considered all of these things in her life, she realized that attending Anoka-Ramsey Community College would be the right fit for her. Right now she's planning to pursue something in the accounting field, but hasn't made any final decisions yet. She's open to what God will do in her life in the coming years and knows that He will be guiding her on the journey.
---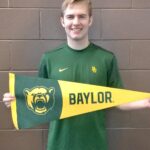 Grant has always been interested in business so that was a major factor for him as he started the college planning process. Since college is expensive, he wants to make sure he will get the most out of this experience. These factors were in mind as he started touring colleges. He toured a total of six and also talked a lot with his older brother who had toured a number of colleges as well. This gave Grant a good foundation for making a choice. When he toured Baylor University, he noticed it had everything he was hoping for in a college experience: the best business program out of all of the colleges he toured, a great location, lots to do on campus, and an active community outside of the college campus. It also helped a lot that his older brother attends Baylor and has had a great experience so far. Grant's parents were very supportive of him on this journey and encouraged him to get things done early. This helped bring his stress level down as he received college acceptance letters early in his senior year. He is ready for the next step and will be attending Baylor's freshman orientation week in July. Grant knows that his college years will require more study and discipline. He appreciates how Legacy has prepared him and taught him to grow in his faith, and is eager to begin his Baylor University experience next fall.
---
Evan spent much of his high school career not really knowing what he might want to do, but he did know that college was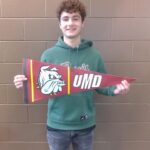 his goal. Once he started thinking more seriously about it, he considered both private and public options. He ruled out being in the city but also didn't feel a small college would be the best fit. Throughout this process, he was able to narrow his choices down to two colleges. He toured them both and thought they each had a great campus, a great location, nice dorms, and good programs. He finally decided on the University of Minnesota – Duluth because he really likes the city of Duluth and he'll have access to good snowboarding. He's still not sure what career area he will pursue and it's a little stressful not knowing his roommate or really anyone at the college. However, he's excited to live on his own and have lots of snowboarding opportunities.
---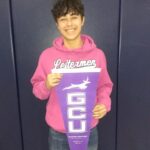 Ross has always liked the idea of working in a business or finance-related field. He likes math and talking to people. His dad is in real estate so he's learned a lot from him and is also interested in that area. As a freshman, he started thinking more about his future and taking his academics seriously. His family started thinking about Grand Canyon University after they connected with another Legacy family whose children have attended GCU. When Ross toured the campus he thought it was really nice and liked the business hall where he would be taking many of his classes. The tour guide was good and thorough and it helped Ross see that the professors really invest in the students. One of the things he loves about Legacy is how being in "good company provides a good future" and his peers here push him to be better. He's learned that your surroundings matter and Legacy has been the best place for that. He sees this same environment at GCU and the students there seem like they'll be similar to what he's experienced at Legacy. Plus, as Ross said, "Who doesn't like Arizona?"

---
Jessa has always known about Bethel University because it is her parent's collegiate alma mater. She's also had other family members go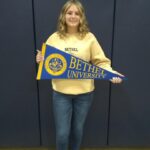 there and has attended Bethel football games. However, for a long time, she was less focused on where she would go to college and concentrated more on what career path she was interested in. She started thinking about both nursing and business and used that to launch her official college search. She's toured other colleges but likes how Bethel feels and she's gotten the sense that she's just supposed to go there. She really enjoyed Legacy's business investment class and her dad is in the field so she knows a lot about it. But she also likes the social aspect that nursing would give her and enjoys working with kids and babies. So she plans to take classes in both fields to see which one she likes better. Jessa's excited about her next step and feels ready to attend Bethel this fall.
---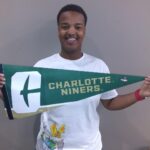 Melvin always knew that he wanted to go to college, but didn't get serious about it until last November. He created a college list based on the college's location and diversity. He came up with a robust list of 19 colleges mainly located in the Southeast. Out of that 19, he ended up getting accepted at 17. He didn't start whittling down his list until about 6 weeks ago. He did this by comparing college costs and then made a pros and cons list. The University of North Carolina in Charlotte ended up being the most affordable out of the group. He loves that UNC has lots of clubs and organizations and he plans to join a lot of them. He likes chapel and worship so he also plans to join one of their Christian groups on campus. He's also very excited about their large and diverse business program that has lots of opportunities for internships. He's planning to major in business finance with a minor in international business. UNC is a different environment and he just really likes the college. This was a difficult decision for Melvin because college is expensive and UNC is far away, but it also seems like things have fallen into place for him. He's weighed his options carefully and feels really good about his next step at UNC.
---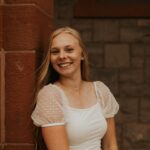 Kaylyn considered a couple of other Christian colleges, but there were so many reasons for her to attend UNW. Kaylyn's mom attended UNW for college and she's gone to a lot of events at UNW. She's taken a number of PSEO classes at Legacy and that has given her valuable insight into the type of education that she will be receiving. It's very high quality and she feels like she'll be getting a good value for her money. It's also helpful to not have to worry about transferring credits because her goal is to graduate college in 3 years. With her PSEO credits and some focus in college, she should be able to attain this. UNW is small, affordable and close to home. These are all super important qualities for Kaylyn because she doesn't want to be just another number at college. Relationships are critical to her and she knew she wanted to be at a strong Christian college with opportunities to connect with quality people. She plans to join some of the business clubs because she is thinking about majoring in marketing with a concentration in communications. And she's excited about earning a minor in biblical studies. Overall, it's been an easy process from the application to the housing to the meeting of roommates. And now, Kaylyn's ready to start college this fall.
---
Articles & photos courtesy of Mrs. Rebecca Lunderby, Legacy Guidance Counselor
---