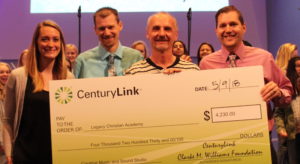 Mr. Rudzitis got a little surprise at chapel this morning! He was awarded $4,230 from CenturyLink to outfit the Music & Technology Class. Mr. Rudzitis hopes that this grant will give our students the opportunity to enhance their music creations!
When asked to describe how he would use the grant Mr. Rudzitis said, "Recently, I have seen a real need to create and expand opportunities for students that are not as interested in traditional classroom music experiences such as Band, Choir, or Orchestra. These students have amazing abilities and talents and can benefit greatly by expressing themselves using technology. These students may or may not even play an instrument, but many have the natural ability to use technology to create music."
"I want to integrate the technology into a new class, Tech in Music, that I have created along with the administration. Students have traditionally used software like GarageBand to develop and write loops using stock sounds and computer keyboards for instruments. My desire is to bring in items that studios use such as microphones, audio mixers, studio monitors, amps and electronic instruments, and midi interfaces that will allow students to be musically creative and innovative using technology."
"I chose these technologies because they can be great resources for collaboration and integration into other classes and projects. Rather than using stock clips and tracks, students will be able to compose, record, and publish their own musical compositions."
Congratulations, Mr. Rudzitis!