The LCA Athletic Department is pleased to share that PACT Charter School,  our co-op host partner for Cross Country Running, has announced the hiring of Dave Johnson to Head Cross Country Coach for the 2018 season. Coach Johnson was an assistant Cross Country & Track Coach at Bethel University from 1990-1994 and began a running club at PACT several years ago in an attempt to jump start a high school program. He's excited to take over the reigns as we build this young team!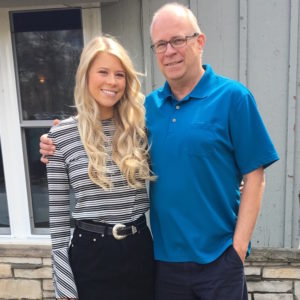 As a former Wisconsin high school individual Conference Champion, All-State athlete, and All-American runner at Golden Valley Lutheran College, Coach Johnson has big goals that include increasing participation. With six runners returning from our first season together in 2017, Coach Johnson hopes to add enough runners to have our Varsity team scoring at meets (would mean a minimum of 5 runners of each gender) and be developing runners at the JV level.
In addition to coaching, Coach Johnson holds the title of Administrative Manager at Salvation Army – Roseville Headquarters, a position he has held for 19 years. He and his wife Becky of 28 years are Andover residents who attend Eagle Brook Church – Anoka and have 3 children, Emily-24, Linnea-21 (pictured w/ Coach Johnson) and Matthew, who will be a senior at PACT this upcoming year.
Please join us in welcoming Coach Dave Johnson on his new role as Head Cross Country Coach!
Contact Coach Johnson ([email protected]) to be added to his email list for future announcements about a Summer Running Club to help future runners get their running base before the season kicks off August 14th.