Please join us in congratulating Reanna Cruz '23 on her 7th place finish in the Section 5A Cross Country meet last Thursday, October 25. With that strong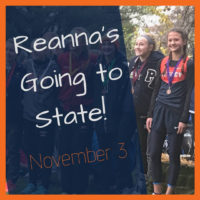 finish, a personal best record time of 19:56.9, she punched her ticket to the State Cross Country Meet held this upcoming Saturday, November 3 at St. Olaf College in Northfield. Reanna will hit the race course at 2:00 pm. Please take a moment during your Saturday to pray for her body to stay strong and her mind to stay clear as she runs the race set before her!
Reporter Patrick Slack of ABC Newspapers wrote a great article as well, that includes quotes from Reanna and Coach Dave Johnson. 
Section 5A Team Results were as follows:
PACT/Legacy Girls: 14th overall.
Reanna Cruz (19:56.9), Maria Flaherty (23:02.2), Paige Heppner (23:04.8), Kendra DeRosa (24:11.0) and Carissa Chute (26:20.3).
PACT/Legacy Boys: 15th overall.
Jeremy Davie (17:33.9), Ben Nauman (17:50.5), Cooper Manske (19:00.7), River Santiago (20:50.1), Thomas Gilbert (20:51.9), Christian Conway (22:35.0) and Lucas Anderson (22:52.0).