It began as two friends, Miranda and Lizzy, feeling prompted by God to help the homeless. The prompting led to an idea. The idea led to an amazing impact!
As part of Legacy's Leadership Academy, Miranda Demars '22 brought the idea of a blanket drive for the homeless to Student Life Director, Tom Keefe. With his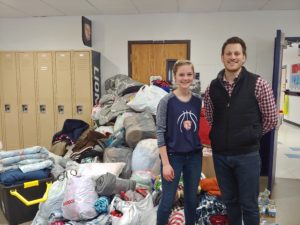 help and the help of her fellow Leadership Academy classmates they partnered with Legacy's Buddy Program to engage students across all age groups. Big Buddy's joined up with their Little Buddy classrooms to see which group could collect the most blankets for the drive. Chick-fil-A, the Leadership Academy sponsor,  jumped in and held their own blanket collection for two weeks at the Coon Rapids location! They also awarded the winning Buddy group, Mrs. Zieroth's 1st Grade Class & Mr. Anderson's 10th Grade, a catered Chick-fil-A lunch.
In the end, Miranda & Lizzy collected a total of 422 blankets and $1,041 to bless God Town of Minneapolis! Legacy families contributed 387 blankets and a total of $694.00 to the campaign. The results of the blanket drive exceeded God Town's original needs so the girls continue to work with them in distributing the items to local homeless people groups and others in need. The money that was collected has been allocated to purchase various items (i.e. mittens, hats, diapers, hygiene items, etc.) to distribute along with the blankets.
It was a blessing for the girls, God Town and the Legacy community to partner in this opportunity to be the hands and feet of Jesus during the month of December…and beyond.
Miranda and her crew continue to visit those in need and share the love of Jesus and the warmth of their hearts.
We thank all of the Legacy families that participated in the blanket drive by sending blankets or donations to school during the campaign.