Movement among member schools has led the Minnesota Christian Athletic Association to reorganize; adding new member schools, renaming and getting a new look for the 2019-2020 school year.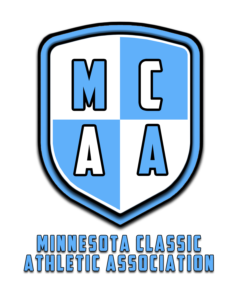 During the 2018-19 school year the MCAA saw Southwest Christian Academy move to the MN River Conference and Bethany Academy make a decision to schedule independently. Both moves were due to changes in enrollment that were affecting their ability to schedule within the MCAA. In addition, the 2018-19 school year would also be the last scheduling year for Maranatha Christian Academy, New Life Academy of Woodbury, St. Croix Preparatory Academy & Trinity School of River Ridge. These schools would be joining the newly formed Skyline Conference for the 2019-2020 school year.
With those changes in place, remaining MCAA member schools, Heritage Christian Academy, Legacy Christian Academy, Lester Prairie/Holy Trinity, PACT Charter School, Spectrum High School, and West Lutheran High School went to work evaluating potential schools to invite into the MCAA. They looked at location, enrollment, sports offered and mission before inviting North Lakes Academy of Forest Lake & Eagle Ridge Academy of Minnetonka/International School of MN to round out the conference of eight.
MCAA Executive Director Chris Laird of Heritage commented,  "There are a variety of emotions as our conference transitions. We have been Blessed with great competition and quality relationships over the past 20 years. However, changing enrollments and geographic realities made the change necessary. I am confident that our new conference will be highly competitive at the Class A level. More importantly, I know that all of our schools will strive to reflect the values of sportsmanship and character building that have always been the cornerstone for the MCAA!"
The new make-up of the conference would also mean that only 3 of the 8 schools hold foundationally Christian principles. In recognition of this fact, founding member schools decided a name change was necessary to more inclusively represent all schools in the conference. The conference is proud to preserve the MCAA acronym by renaming to Minnesota Classic Athletic Association.
The Minnesota Classic Athletic Association will compete in boys & girls cross country, volleyball, boys & girls soccer, boys & girls basketball, boys & girls track & field, boys & girls golf, baseball and softball.
---
For Immediate Release: July 1, 2019
Contact: Nathan Bellefeuille, Legacy Christian Academy Athletic Director or Chris Laird, Athletic Director at Heritage Christian Academy, Maple Grove & MCAA Executive Director with questions.