Class of 2021 Decisions
It's that time of year where we get to share the plans Legacy seniors are making for their lives after graduation. As we celebrate these decisions with each student, would you please join us in praying that they have open hearts and minds to the call of God on their lives?
---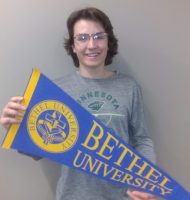 Delfin is sensing God calling him into ministry so he's decided to double major in Business Finance and Ministry with a minor in Philosophy or Political Science. After considering a few colleges in the Midwest area, he's decided that Bethel University is the place for him because he would like to stay close to home and he loves Minnesota. Some of the things he likes about Bethel are the fact that he has a few friends going there, the food was good, the people were nice and it just felt like home. He also likes hockey and might try to play in college. He thinks it's important to have a good liberal arts education and become a well-rounded person. He appreciates his family and how they have helped him along the way. Through Legacy's on-site PSEO classes and the online classes Delfin took, he will have earned 41 college credits.
---
When Mya was young she had hoped to attend college in Florida. As she got older, she didn't want to limit
herself to one state, but knew she wanted to go somewhere warmer and attend a Christian college. She toured colleges in Colorado, Nebraska, and Minnesota, but ultimately Liberty University is where she's decided to attend. When she first toured with friends, it felt too big, but she decided to go again with her mom and she realized that she wanted something a little bigger. Mya joined a Facebook group and was able to meet her potential roommate before actually committing to Liberty. This ultimately solidified her decision and she's also thankful to have the support of her family. Mya is into sports so she's excited that Liberty offers a lot of intramurals and D1 sports. Her intended major is a general Business degree and she likes the idea of becoming an event planner but wants to keep her options open. COVID made the college planning journey more challenging and she wishes she would have started the process sooner. However, she's happy to have finally made her choice and is excited for the next chapter in life while knowing she will miss Legacy and the people here.
---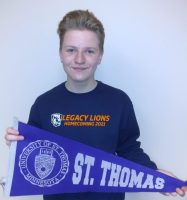 Parker's dad has always shown him the opportunities that can come with owning a business and for that reason, he's now interested in pursuing
a career in the business field. Overall, he toured 7 colleges. He feels like the University of St. Thomas is the right fit for a variety of reasons. He wanted something a little bigger, but not too huge, he didn't want to be too far away from home, and it feels like a good place to expand into the real world in terms of his Christian faith while still being at a college with a strong religious base. He also feels like St. Thomas has the business program that will give him the most opportunities. They have many connections to companies throughout the United States and he's hoping to take advantage of that. He's intrigued by their Real Estate Investment major and might pursue that along with a Finance minor. He's looking forward to being a part of some of their recreational programs in golf and orchestra while not having that be his main focus in college. He's more excited about focusing on the business program and what he hopes to do with his life even though he will miss the close-knit and Christ-like community that Legacy offers. Parker has really learned the importance of writing good essays. This has served him well throughout high school and the college admissions process.  Currently, he has been given an academic scholarship that will cover half the cost of St. Thomas and is awaiting more possible scholarship money. He's earned 28 college credits.
---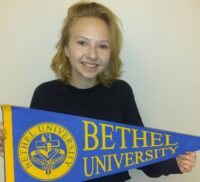 When Annika was younger, she was considering doing PSEO full-time as a junior and senior. But she realized that she was starting to get ahead of herself in terms of making plans for life after high school because she had no idea what she wanted to do. Mr. Keefe was a source to talk this through with and he gave her some perspective that she found very valuable. As she started touring colleges, she still didn't know what she wanted to do so she didn't really pay attention or take the visits seriously. The pandemic caused her to rethink things and prompted her to start taking seriously not only thinking about college but also the college tours. She ended up touring Bethel 3 times; once with Legacy, once with her mom, and then again with her family to specifically tour the Media Production program. She really likes the environment, feels happy there, and feels like she fits in. The Media Production program suits what she wants to do and she's intrigued by the things she will learn such as podcasts, editing software, high production filming, and more. Their program also comes with a lot of hands-on opportunities and internships. Her goal right now is to work with humanitarian organizations that highlight mission work, anti-sex trafficking, and helping people. Annika encourages students to work hard and do your best, but don't beat yourself up or stress too much. We're so glad she stayed at Legacy and she still leaves our doors with 22 college credits.
---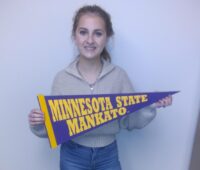 For most of Claire's younger years, she thought she would go to the college that her parents had attended. However, participating in Legacy's college tour days helped her to see that there are other options that she wanted to look into. It was during her mom's English classes here at Legacy that she realized that she loved writing. Her mom saw that it made her happy so she encouraged Claire to listen to that. Writing just feels right so she started thinking about what writing could look like in college. She would love to follow news stories or be a news anchor so she started Google searching colleges with Journalism programs. This search led her to Minnesota State University Mankato. At first, she wasn't really excited about it, but went ahead and added it to her college list. She was able to tour in the fall of 2020 and loved the buildings, the area, and the environment. Mankato feels like a place in which she can make a home for the next 4 years. She still wants to keep her options open as far as majors, but she hopes that writing and traveling will be a part of her future. She's excited about starting her own life, making her own choices, and figuring out who God has created her to be.
---
Morgan spent much of high school unsure about what to do after graduation. In February 2020 she had a friend text her about a life conference that the friend was attending. Her Speech Meet got canceled so, last minute, Morgan decided to go to the conference. While there, she noticed college booths that were advertising their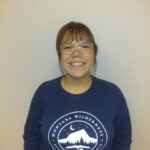 schools. One of them was displaying some photos of trees and she thought to herself, "I like trees." So she visited the booth for Montana Wilderness School of the Bible. That night as she was laying in her sleeping bag, she filled out the paper application and gave it to the college the next day. She felt pretty sure she was supposed to go there. With the pandemic, things stayed up in the air for a while, but she was able to go and visit MWSB in September of 2020. The campus was beautiful and she got to sit in on a class about creation. Between that and the friendly staff, she's made the decision to attend. Her goal is to spend two years with God and then hopefully do an internship in camp ministry. She is so thankful to have been a part of Legacy's theatre program, student council, and speech. One thing she's very excited about is being at a place that only allows internet access for 4 hours per day. She really feels that this will help her connect with both God and people. One thing that was helpful for her as she thought about life after high school was to sit down during freshman year and create a 4-year course plan. This helped her to keep focused while she was considering post-secondary options.
---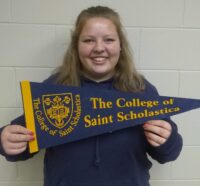 Not too long ago Addy became interested in the medical field and wanting to help people. So she started watching ER shows and asked her parents which colleges she should look at. They thought about some of our local colleges, but then her dad suggested the College of St. Scholastica. At first, she was hesitant because it was outside of her comfort zone (even though she was looking for something different). She toured in November and thought the buildings and architecture were so beautiful. The campus has character and made her want to learn more about their story and their programs. It felt friendly, different than what she was used to; it felt like she was meant to be there. She applied and waited for their financial aid offer. She was so excited to find out that they are offering her a $25,000 renewable scholarship with the opportunity to apply for more. This sealed the deal and Addy is so excited to be a part of their 4-year Registered Nursing program. She hopes to work in a trauma or ER setting. She's excited to be challenged, learn more about the medical field, and test her skills in helping people. Along with the excitement, she feels weird about being away from her family and will miss the friends and relationships with teachers at Legacy. She will tell you to not worry or stress too much about planning for life after high school. "God's got it. Give it to him and he will take it."
---
Mason first heard about Grand Canyon University from his brother who just graduated from GCU.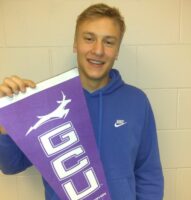 He also knows other Legacy students who have attended and liked it. By visiting his brother, he was able to see the campus and really liked it. It was also helpful for him to hear how much his brother has liked it for the last 4 years. Because of this, he didn't feel the need to check out any other colleges. He's considering majoring in Finance or Economics and hopes to go into a field in which he can work with money. If this doesn't work out, he would also be interested in a field in which he could build something like Engineering. Even though he's excited to live on campus and enjoy the warm weather, he knows he will miss his friends and the occasional cold day. It worked for Mason to figure out what he likes to do and then find a major and a college that provides that.
---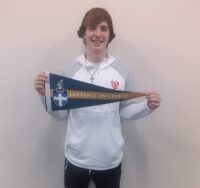 Jake knew about Legacy most of his life. Over time he came to know Mr. Dwight Nelson, Mr. Mulvihill, and Mr. Bellefeuille. He decided he wanted to come to Legacy to be a part of the community and wanted the mentorship from these adults he was getting to know. His experiences at Legacy shaped his college search. He had never heard of Lawrence University until he was approached by their basketball coach. He really likes the coach and feels like going to Lawrence will provide a positive experience similar to what he's having at Legacy. He toured 2 other colleges and talked with 8 other ones, but none of them felt like Lawrence. He wants to do something in the Computer Science or Information Technology field and is looking forward to a business innovation class that Lawrence offers. He's excited to be moving on to the next stage and college athletics, but knows he will have more responsibilities and will miss his friends and high school athletics. It was helpful for him to consider a lot of colleges, but ultimately chose the college that felt like the right fit.
---
Sam has been interested in aviation since he was 3 years old and has always thought it would be cool to fly airplanes,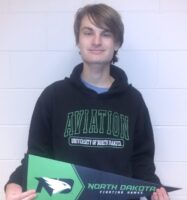 especially commercial jets. Ninth grade was when he seriously started thinking about it as a career. He's now decided that there isn't anything else he would rather do. He first learned about the University of North Dakota through the Naviance program that Mrs. Lunderby uses to help students explore careers and colleges. He then had the opportunity to talk with two different people who were both pilots that had attended UND. At first, he was hesitant to consider UND, because as he puts it, "it's going to be cold." However, he toured in October of 2019 and it changed his mind. He loved seeing the hangar and was impressed with the classrooms and the facilities. Students he talked with all had positive things to say about the UND Aviation program, solidifying his decision. In addition, Sam was accepted into their Honors program. Well done, Sam! He's ready and excited to be on his own and start his career while knowing that he will miss the Legacy community where everyone knows each other.
---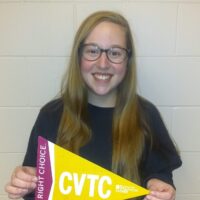 Through Grace's own medical experiences, she was introduced to the field of Sonography. It piqued her interest and she started asking questions. Over time, she realized it would be the right fit for her. She then did a lot of research with the help of her mom and grandma. She made an in-depth exploration of 3 different Sonography programs. After touring, it was obvious to Grace that Chippewa Valley Technical College has what she is looking for. Their facilities are very impressive and she likes how their program is laid out. She also noticed how their teachers really care about the students and what they are doing. In her words, "the whole place just seemed uplifting". It's also helpful for Grace that her grandparents live about 30 minutes away and she will be able to live there while completing the 2-year program. Grace says, "Don't stress out about planning for life after high school. Things often come together as God puts it on your heart and mind." (We love that, Grace!) She'll miss the teachers at Legacy, but she's really excited about her future career.
---
Kyra's decision to attend the University of Northwestern is based both on legacy and personal experience. Her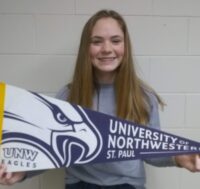 parents as well as both of her siblings attended UNW. She's been able to see the community and understand what they have to offer. She explored other colleges, but UNW stuck out to her because of their community and the small, Christian campus. She just feels like it fits her best. She's currently contemplating a science-related major with the possibility of becoming a Physician's Assistant. She loves helping people and has always thought about going into the medical field. She wants a career in which she can be active and have variety. She's going to miss the Legacy community and being so close to everyone. "It will be weird not going here," says Kyra. But she's excited to live in the dorms, meet new people, and expand friend groups and experiences. Her journey included praying about her future and doing what felt right after giving it to God. She encourages younger students not to waste time stressing too much, but instead to talk to God about it. She also takes with her the 35 college credits she will have earned by the time she graduates high school!
---
Learn more about how Legacy guides students through their high school experience in preparation for a life called by God. Post-Secondary Advising at Legacy