WOW! This has been an amazing kickoff week to I Love To Read month at Legacy. Students have made an extra effort to read throughout the day at school and at home. We love seeing the students' excitement as they walk the halls and see the Hall of Fame decorations as well as experience the fun activities throughout the day.
The week opened with this reading CHALLENGE video from Mr. Nydam and Mr. Mulvihill:
As the week progressed, students were able to watch reading videos from Legacy's awesome staff.
Tuesday – Mr. Jake Mulvihill – Head of School – The Big Red Tractor and The Little Village
Wednesday – Dr. Shawn Lohse – 7th – 12th Grade Principal – The Rabbit Listened
Thursday – Mrs. Sue Happ – Director of Advancement – Wolf!
Friday –  Elementary teachers traveled to different classrooms and shared their favorite books as well.
It has also been a joy to see the students excited about reading the Bible.  We have dedicated some specific times during the week for all students K-4 to read their Bibles that they were given on Monday.  They are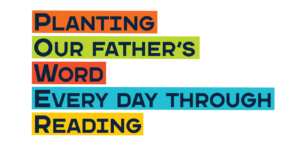 planting God's Word in their hearts through POWER Time.
So remember to read every day and record those minutes!
As of week #1, our students have accumulated 31,415 minutes towards their 120,000-minute goal! Keep up the great work!