With a 79-45 win over Christ's Household of Faith on Thursday, March 25, 2021, the Legacy Boys Basketball team has secured the school's first state
tournament birth for the program! They will now travel to Rochester Mayo High School for the State Quarterfinals on Wednesday, March 31st and face Hayfield. Full tournament information is available HERE. Section game recaps and state tournament information is available below.
Streaming and Broadcast Information
Quarterfinals: Streamed by SchoolSpace Media on www.prepspotlight.tv • Prices: One Game – $9.99 One Day – $14.99 Two Days – $19.99 • Semifinals and Finals: Broadcast on 45TV; streamed on www.prep45.com
Spectator Information
Tickets are not available to the general public. Each participating team will receive a limited number of tickets. Activities Directors of participating teams will receive information about ordering limited number of tickets prior to the state tournament. This information will be shared with participants' families. Tickets will be ordered online. Tickets will be valid for one game. Venues will be emptied after each game. There are no "in and out" privileges with a ticket.
Ticket prices: Regional Quarterfinals $12 per game o Sections and Finals $16 per game
Masks are required to be worn at all times in the venue. All spectators will be COVID-screened onsite at the venue. Spectators are responsible for socially distancing themselves from others who do not live in their household.
---
Thursday, March 25, 2021 – Section 4A Championship
Legacy vs Trinity, Andover, Minn —The Legacy Christian Academy boy's basketball team (20-1) advanced to the program's first state tournament appearance after a 79-45 win over Christ's Household of Faith (10-6). The Legacy Lions clinched the automatic bid from Section 4A to reach the state tournament.
Trent Harrison got the game started with an easy lay-up, and after a three on the other end, Legacy went on a 6-0 run to take an 8-3 lead. Harley Kendall and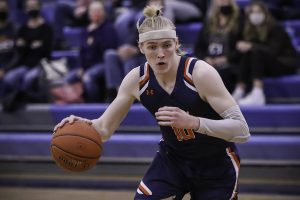 Micah Strand consequently both connected from downtown to give the Lions an early 14-5 lead. Jake Wald followed with a three, and Brian Halcomb added a lay-up with eleven minutes left in the half to extend the lead to 21-7 as Legacy was cooking early. Wald added two free throws to make it 23-7, which forced a CHOF timeout as Legacy built a 16 point in the first ten minutes of the contest.
Two more deep threes from Strand, his second and third of six, and another three from Charlie Bovee made it 32-17 with a little over four minutes to play in the half. CHOF went on a nice run at the end of the half to cut the lead down to nine before Strand added his fourth three, this time from the corner, to end the half. The Lions entered the break up 40-28 and were riding high off Strand's scorching hot first 18 minutes.
Legacy started the second half with a 6-0 run as Harrison got the second half started exactly how he started the game. Carson Hennen showcased the Lions' depth as he added a corner three with 13:30 left to make it a 23 point, 53-30 lead for Legacy. Brian Halcomb continued to get involved in the paint as he followed with two more lay-ups to make it 57-35.
From there, the Lions pulled way ahead as they continued to rain down baskets. The lead extended to 36 on Micah Strand's sixth three on the night with five minutes to go, making it 75-39. The Lions went on a 38-11 run in the 13 minutes from Strand's bucket to end the first half through the first 13 minutes of the second half.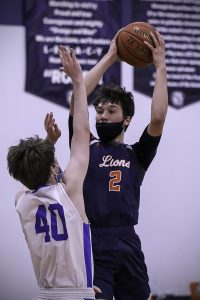 The crowd and bench began to feel it as the clock slowly ticked toward zero. With that being said, the players and coaches needed to play through the final whistle as assistant coach Taylor Slagter commented afterward that it was "the most nervous I've ever been in a 34 point win." The players really began to celebrate when Coach Bellefeuille subbed out his starters with a minute and a half left and got his starting five one last standing ovation on their home court.
The seven seniors, Harrison, Wald, Kendall, Mason Rothstein, Halcomb, Tommy Steffen, and Hennen, have left a lasting mark not only on the players and coaches but also on the program they led the team to its first-ever state tournament appearance. Strand led the way on this night, after a quiet semi-final with 19 points, Kendall and Halcomb both netted 14, Wald added 13, and Harrison rounded out those in double figures with 11.
The Lions will march onto the state tournament after getting revenge in what would have been the section final last year before Covid canceled the game. This year, though, the team was able to cut down the nets and usher in the beginning of a new era in Legacy boy's basketball.
-Mr. Matthew Bauman, Legacy Staff
---
Tuesday, March 23, 2021 – Section 4A Semi-Finals
Legacy vs Trinity, Andover, Minn. –– The Legacy boy's basketball team (19-1) advanced to its second consecutive Section 4A championship game after a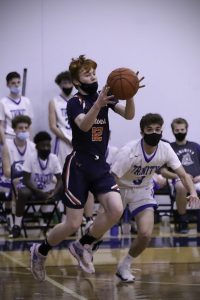 commanding 72-56 win over the Trinity TriHawks(10-10) on Tuesday night. 
The Lions started off hot thanks to senior captain, Harley Kendall. Kendall scored the team's first eight points off of two three-pointers, both assisted by Trent Harrison, and a two off of an assist from Brian Halcomb. Kendall ignited the offense frequently throughout the contest as he finished with a game-high of 21. 
Trinity kept the game close throughout the first ten minutes of the contest and eventually took a 25-24 lead, the only lead of the contest for the TriHawks. Brian Halcomb, one of the other seven seniors on the team, helped to ignite the offense in the final ten minutes of the first half. He got the Lions back in front on a layup after his own offensive rebound and then laid in another to make it 28-25. 
Jake Wald helped Legacy to continue to expand their lead with a transition bucket and then got an assist on an and-one from Halcomb to put the Lions up 33-27. Halcomb scored all 13 of his points during this crucial stretch which led to a 45-31 halftime lead.
The TriHawks came out firing in the second half as they started the half on a 9-2 run to make it 47-40 four minutes into the half. Once Trinity cut it to seven, Legacy kicked it into high gear and went on a 13-1 run. Kendall took charge after a quiet end of the half as he went coast-to-coast to make it 49-40 before a Legacy timeout. After the break, Charlie Bovee hit a three off of an assist from Wald to give the Lions a thirteen-point lead. Tommy Steffen, Wald, and Harrison, all followed with buckets to extend the lead to 60-41 as Legacy looked to put the game out of reach.
Trinity was not willing to give up that easily, though, as they followed with a quick 7-0 run to make it a 12 point game with less than five minutes to play. Kendall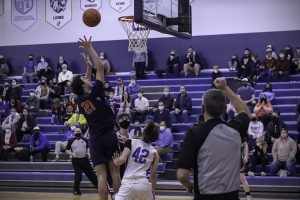 followed with four straight points and Tommy Steffen got his second bucket of the game shortly thereafter. 
Trent Harrison hit a deep three with a little over a minute to go to make it 69-51 and both teams put the bench in to close out the contest. One of those who entered for the Lions was Evan Bovee. Evan hit his brother Charlie Bovee for an open look from three for his first career assist in what promises to be a promising career for the younger Bovee as he follows his junior brother's footsteps.
Legacy finished just 6-16 from behind the arc, the Lions average 11 threes a game, which forced the team to take care of business at the rim. Head Coach Nathan Bellefeuille noted that that was one of the key factors in the game in that the team pivoted from its normally high-powered shooting attack to driving to the basket with ease. 
Harley Kendall led the team with 21 points and eight rebounds, Trent Harrison finished with 14 with eight boards, Brian Halcomb had 13 points, and Charlie Bovee had 10 and six boards.
-Mr. Matthew Baumann, Legacy Staff
---
Full photo gallery coming soon.