Legacy Athletics is delighted to announce that Christina Goodman has been selected as the next head coach for the Lions Girls' Soccer program.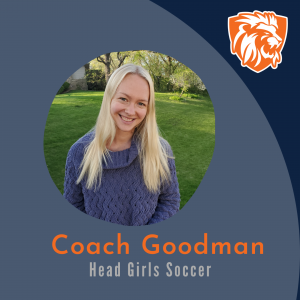 Goodman shared that she is excited to build on the Christ-centered culture of the Girls' Soccer program stating, "I would like to mentor girls in their walk and help them use the game to build stronger relationships and use talents God has given them to minister to others." Athletic Director Nathan Bellefeuille shares, "As I watched the JV basketball girls develop over the winter, it was obvious that Coach Goodman knew how to inspire and teach. The girls on the team were not only becoming better basketball players, but you could see their love for the game and for each other grow as the season went on. I know Christina will bring those same qualities to our girls' soccer program."
Coach Goodman played soccer and basketball at North Central University. Her passion for coaching grew out of a collegiate injury her senior year that had her sidelined, but not inactive. She saw that time as an opportunity to develop her passion for coaching and to allow sports to be more of a platform to connect and share God's love for those in need. She was first introduced to the Legacy Lions this past winter when she joined the Legacy Girls' Basketball staff, assisting with the JV program under Head Coach Kaia Hill. Coach Hill says, "I could not be more excited to have Coach Christina Goodman join the LCA coaching staff as the Head Girls' Soccer Coach! Coach Goodman brings a contagious energy to our girls' basketball team and I know she will bring that same energy to the girls' soccer program. She is passionate about the sport and growing the program, but even more passionate about helping the girls on her team grow to know and love Jesus."
Outside of coaching, Coach Goodman is a licensed Marriage and Family Therapist. She recently began attending Eagle Brook Church in Wayzata and is looking forward to getting involved within the church. She likes spending time with family, friends and her boyfriend along with staying active in a co-ed soccer club and enjoying the outdoors in her free time.
Please join us in welcoming Coach Christina Goodman to the Lions field in her new role as Head Girls' Soccer Coach!