Boys Golf takes 1st in Section; Girls Golf takes 2nd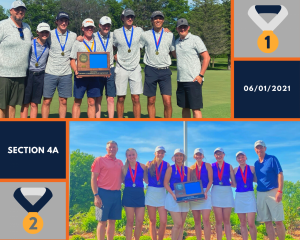 Congratulations to both boys and girls golf teams on successful rounds during section competition. Here are the Section 4A Golf Tournament results from Pebble Creek Golf Course in Becker.
Boys – Team: 1st Place –  Trent Harrison, Tommy Steffen, Brian Halcomb, Parker Stromquist, Jake Wald, Ty Nelson
– Individuals: 2nd Place – Trent Harrison, 4th Place – Tommy Steffen
Girls – Team: 2nd Place – Miranda Demars, Ari Cimbura, Kaylyn Otteson, Hannah Compton, Raquelle Nelson, Emily Brandt
Individual: 2nd Place – Raquelle Nelson, 3rd Place – Hannah Compton
Individual State Qualifiers: Raquelle Nelson, Hannah Compton, Emily Brandt, Miranda Demars
State Tournament will be held at Pebble Creek Golf Course on June 15th and 16th.
---
Clay Target: Trap Shooting 1st in Conference
The Legacy Trap Team took 1st place in their conference with 7 of their 15 team members placing in the top 25. This is the first team championship for the program!
On the boys' team, Ben Stroyny '23 finished 2nd and Alex Domeyer '21 finished 4th.
For the girls' team, Cadence Werth '22 placed 1st and Jessa Delich '22 finished in 3rd.
The team travels to Alexandria, MN June 14th for the State Championship.
---
Baseball and Track & Field are still competing in section tournaments.