Dan Nelson, Legacy's Varsity Girls Golf Coach, was just named Coach of the Year for 2021-2022. The Minnesota State High School Coaches Association honored coaches, including Legacy's own, from around the state at its annual Coaches Banquet held in the Sheraton Hotel in Minnetonka on October 8, 2022.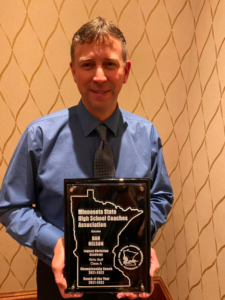 In the ten years he has coached the Legacy girls, Dan has sent at least two individuals to the State Tournament every year. This statistic is impressive alone, but these individuals not only qualified for State, but excelled in those state-level competitions. Dan has had the privilege of coaching eight All-State golfers who have finished 2nd place individually four times and 1st place twice.  
The team has also thrived under Dan's leadership. Dan's teams have made five State appearances. Dan's first year of coaching at Legacy brought the team to 4th place at the State Tournament in 2012. The team came back with a vengeance the three years following that first State appearance, and Dan led his girls to three State Championships in a row from 2013-2015.  Then, this last spring, the girl's earned another trip to State where they won it again in 2022. 
With this long list of golfing success, it's no surprise then that Coach Dan Nelson was celebrated at the MSHSCA Coaches Banquet as the nominated Coach of the Year.