The Innovation classes have been busy this winter collaborating with Mrs. Smitsdorff, the Elementary Media Specialist, and preparing for the Christmas season. 
Our 2nd grade classes began a unique project by first reading The Legend of the Candy Cane with Mrs. Smitsdorff in the Library. As the incredible story goes, "According to the legend of the candy cane, this candy was first created back in the 18th century. At that time, in certain areas of Europe, there was said to be a ban on public displays of Christianity. Christians were oppressed and no Bibles or crosses could be owned at the time. One man found this oppression distressing and wished he could share the love of Jesus and the joy of Christmas with the rest of the world. When Christmas came around, children didn't get to see nativity scenes or enjoy learning about the truth of Christmas. As a candy maker, this man prayed to find a way that he could offer local children a Christmas gift that would allow him to communicate the real story of Christmas."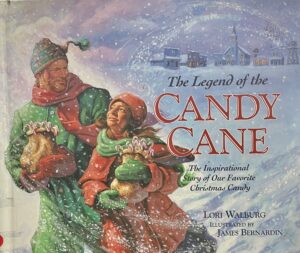 To practice their handwriting, students then transcribed either the legend of the candy cane, Isaiah 9:6, or Luke 2:6. What was this writing going to be for, students wondered. Mrs. Smitsdorff then handed off each student's writing to Mrs. Hubb in Innovation. With the help of a few upperclassmen and the laser cutter, each student's handwriting was carved into a piece of wood.
Students were so excited (and amazed) to see their own handwriting on a piece of wood! But the project wasn't done yet! The empty space needed a candy cane, just like the candy cane of Lori Walburg's children's book. The 2nd grade students stacked beads with pipe cleaners before tying the canes to their project. 
The final project was amazing and a reminder for Legacy students what the true meaning of Christmas really is this time of year!
Meanwhile, 2nd and 3rd grade tackled an adorable ornament project where they designed their own writing and assembled each component of the hat (including the pom-pom).
This time of year has brought some incredible, creative, and beautiful projects that are inspired not only by technical components of the Innovation classes but collaboration with other content areas as well! But the heart of each project remains the same: Wishing each student and family a merry Christmas!