Legacy stands where it is now because of the faith, prayers, and support of others who envisioned what a Christian school committed to equipping the minds and to discipling the hearts of students for Christ-like living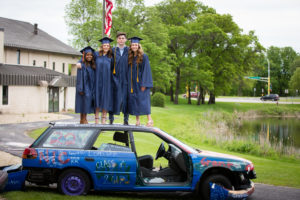 could mean to this community.
As a result, over 5,000 students have been given the opportunity to be educated within a biblical worldview, to see life rather than death, to feel hope rather than despair, to learn truth rather than lies, to discover how to be wise rather than foolish, to be loved rather than shunned, and to grow in Christ-like character rather than self-exaltation as they are prepared for their next step in life.
1976 – Meadow Creek Christian School (MCCS) was founded as a ministry of Meadow Creek Church by Pastor Charles Shepson. Shepson had a vision to partner with parents to educate children within a biblical worldview and began teaching the hearts and minds of 100 students with a staff of 6. Mr. John Delich was called to be  the first administrator.

1980

 – MCCS first graduating class!

1988

 – The new educational wing was added with 14 additional classrooms and a new science lab.

1989

 – MCCS became accredited through Association of Christian Schools International (ACSI).

1990

 – New athletic fields at the north end of the campus: 1 baseball diamond, 2 softball diamonds, and 1 soccer field.

1995

 – The Meadow Creek Sports Center was built.
2010 – Meadow Creek Christian School name was changed  to Legacy Christian Academy. Although the name changed, the mission has remained the same.

2013

 – The standing stones were added as a reminder of God's faithfulness, sovereignty, salvation, and provision to our school.

2017

 – A new five-year Strategic Plan with six initiatives was adopted by the School Board.